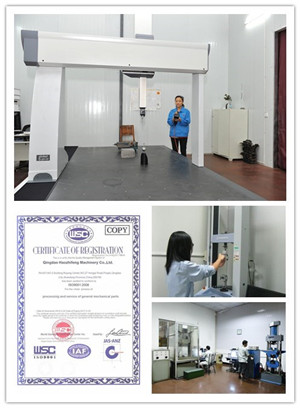 Qingdao Haozhifeng Machinery Co., Ltd is a professionally managed hardware company with more than10 years experience in exporting business. It has five Branches which specializes in Casting parts, Auto parts, Forging parts, Stamping parts, and Machining parts. The company owns two factories besides of 100 close cooperated subcontractors. We have the capability to ship up to 80 20FT containers per month to Europe and the United States.
We place an emphasis on understanding the specifications and customer quality requirements, the application of the proper controls and producing the part precisely the first time.
A high standard in quality is achieved and maintained by our strong infrastructure which included latest measuring instruments like Air Gauges & other regular measuring Instrument duly calibrated. Bore Gauges, Micrometer, Verniers etc. Having facilities of CMM, profile projector and Special test fixtures. Our commitment to Quality is the fact that all the contact manufacturing done at Gensun Precision Machining is certified to ISO 9001: 2008. With the most advanced measuring instruments and most experienced craftsman to provide global customers with highest-efficiency, highest-economy, and highest-quality products.
Quality Control Measures
- Total Quality management (TQM)
- Gemba Zanka
- Continuous Improvement Program
- Employee Training Programs
- Vertical Integration of Processes
- Investment in the Latest Quality Control Equipment
- Quality Incentive Programs
- Organizational Commitment to Quality